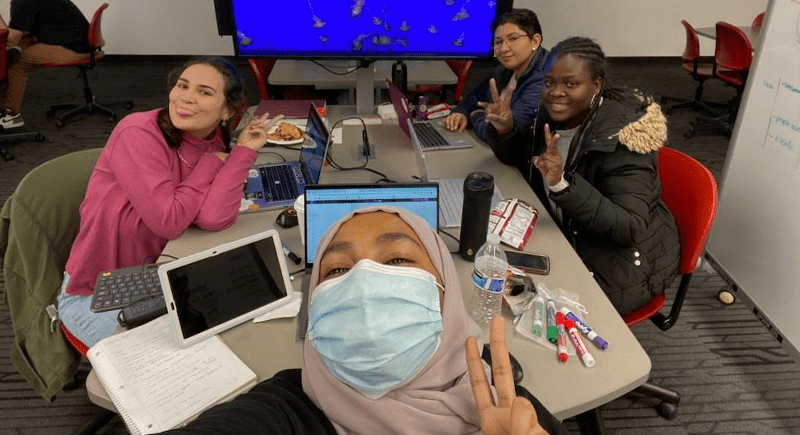 March 24, 2023

WSU Tri-Cities Coding Cougs team takes second place at Crimson Code Hackathon

An all-female team from Washington State University Tri-Cities' Coding Cougs student organization won second place in the novice division at the 11th annual Washington State University Crimson Code Hackathon event held in February in Pullman, Washington. The team developed an application to help people connect with each other by trying new activities together.

The Crimson Code Hackathon event is WSU's first-ever and only programming event organized by students, for students. The goal of the 24-hour event is to create an environment that allows participants with diverse backgrounds and perspectives to collaborate, innovate, and learn.

According to an article in the WSU Insider, this year's event drew more than 300 young programmers from local high schools and universities to try their hand at developing applications from scratch. Participants made up 51 teams that were divided into two tiers -advanced and novice- based on their experienced. Teams were challenged to come up with an application that fit the theme "Try Something New" while incorporating other elements such as creativity, originality, and innovation.

Team Flamingo

The team from WSU Tri-Cities, Flamingo, was made up of four friends: Razan Osman, a sophomore majoring in civil engineering with a minor in environmental science; Elizabeth Garcia-Mitchell, a junior majoring in environmental science and minoring in biology; Jessica Lopez, a junior studying for a bachelor's in mechanical engineering; and Manuella Tossa, a junior majoring in electrical engineering and minoring in computer science. On the way to the competition, the girls were listening to each other's music and ended up liking one of the songs, "Flamingo", by Kero Kero Bonito so much they decided to use it as their team name.

Osman, president of Women in STEM and vice president of the Black Student Union, was responsible for pulling the team together. "I was able to convince my friends, Manuella, Lizzy, and Jessica to team up with me for the Crimson Code as I thought it would be fun to team up with my friends and create something!" she said.

A challenging and fun experience for all

The inspiration for their idea started in the brainstorming session when they each listed things they had never done before but wanted to try. The list ranged from going to a pumpkin patch to riding a horse. Next, they discussed what prevents them from going out and doing those things. They concluded that doing new things by themselves was intimidating. Their app prototype "NEW2YOU" was designed to bridge that gap and help people connect with like-minded locals who have the same desire to try something new. "The hope is that this app would work as a travel companion so that as you visit a new place, you can find things to do in your area and connect with a local who may or may not have experience doing that activity," said Garcia-Mitchell.
While the competition was challenging, team members said the best part of the competition was being surrounded by so many like-minded people, challenging themselves, creating something using the skills they have acquired and bonding as friends. "Many people I met were passionate about coding, and others had little to no experience, like me. I went because I wanted to challenge myself and learn something new. I had so much fun participating in the 24-hour coding challenge, and my team was amazing at working together," said Garcia-Mitchell.
Creativity, innovation and communication were the keys to success
Osman attributes their second-place finish to the variety of skills they each brought to the team. "Lizzy was really good at communicating our idea and explaining it to the judges; Manuella was really good on ensuring that we made progress with our app throughout the day; Jessica researched how we could make the app a reality through coding; and I was able to tell the team what we needed to do to be able to present our idea and what resources were available to use," she said.
Lopez said it was their vision for the application and that it had potential to expand beyond the scope they presented that helped their team win.
Tossa said creativity, innovation and the ability to communicate effectively helped them score high marks. "We won because our idea followed the theme, was innovative, original, and practical, and our prototype worked fine when we did the demo. Also, we could express our thoughts and answer the jury satisfactorily while defending our project," she said.
The Associated Students of Washington State University Tri-Cities allocated funds for WSU Tri-Cities Coding Cougs to participate in the event. "This event gives students the opportunity to try new things, network with large companies and other WSU campuses," said Evelyn Martinez, WSU Tri-Cities director of student engagement.
The Coding Cougs club focuses on career development and extracurricular coding events. According to the club's web page, they also assist students who are on the computer science path navigate their classes. The club meets every Thursday from 3-4 p.m. in the Student Union Building in room 120N.