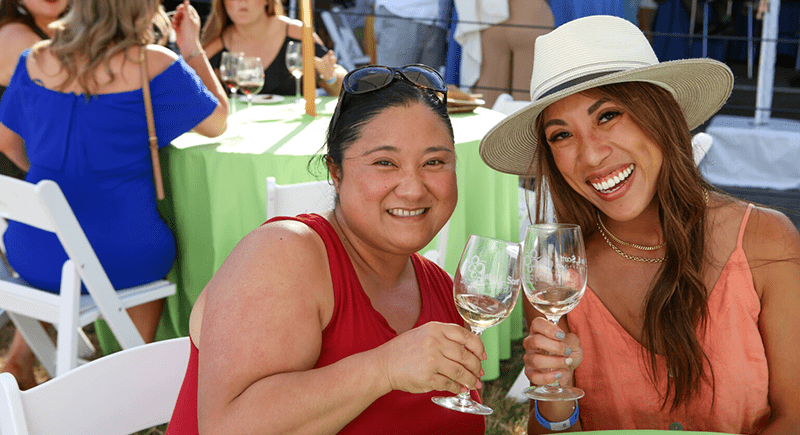 July 26, 2023

Upcoming Auction of Washington Wines events support evolving WSU V&E research and education

For decades, the Auction of Washington Wines has partnered with Washington State University to fund wine science research, ensuring that faculty in the Department of Viticulture and Enology (V&E) can continue critical work on globally applicable projects.

Recognizing that its needs have evolved since the pandemic and the January 2023 transition from program to standalone department, WSU V&E turned to the Auction of Washington Wines to help fill that gap. In response, the nonprofit graciously agreed to back two recently established V&E student funds, marking a new era of partnership.

"I'm excited our philanthropic partner, Auction of Washington Wines, shares our values related to prioritizing undergraduate and graduate education alongside research," said V&E Department Chair Jean Dodson Peterson. "These avenues of support give us a reliable pipeline of funding for students in financial need as well as the ability to offer new opportunities for learning in innovative environments."
The Auction of Washington Wines is contributing to WSU's V&E Student Support Fund, which directly expedites emergency financial aid to students experiencing life crises that could cause them to drop out of the program. The organization is also backing the V&E Experiential Learning Fund, which provides support for field trips and other learning opportunities that offer students a more comprehensive understanding of the wine industry.
"I'm thrilled that we will be supporting these new student funds and helping our donors understand the importance of contributing to these causes," said Auction of Washington Wines Executive Director Jamie Peha. "Our partnership with WSU is strong, and we're looking forward to supporting the V&E department this year and beyond. The future is in these students."
In August, Auction of Washington Wines is also hosting several fundraising events that will directly benefit WSU's V&E department:
Since its founding in 1988, the Auction of Washington Wines has raised nearly $60 million to support the growth of Washington's wine industry. The nonprofit also provides financial support to the health care industry through donations to Seattle Children's Hospital and Vital Wines, a nonprofit offering medical care to vineyard workers.
In addition to providing financial support, the Auction of Washington Wines serves as an influential voice for WSU wine science research, allowing the V&E department to reach people it might not typically encounter.
"Through Auction of Washington Wines, WSU V&E is able to make connections with an audience beyond our typical reach," Dodson Peterson said. "This empowers us to more impactfully share how the advances to come out of the Ste. Michelle Estates Wine Science Center, the Ravenholt Teaching Vineyard, and the Irrigated Agriculture Research and Extension Center support the state of Washington's wine and grape industry."
The partnership has been instrumental in providing the V&E department more resources to prepare for challenges brought on by climate change and find solutions for the negative impact extreme temperatures could have on vineyards and wineries.
"Giving back to the Washington state wine industry is in our mission statement," said Auction of Washington Wines Board President Stacy Lill. "Our partnership with WSU directly supports the future of the industry in so many ways, including research that's critical to climate change."
Dodson Peterson and Peha agree that the partnership is an important investment in the Washington wine industry's future — a future that holds endless possibilities, from cutting-edge discoveries by V&E faculty to the diverse voices that future V&E students will bring to the table.
"Any time a philanthropic partner sees your vision and walks that path hand-in-hand with you, it's a unique opportunity to be an agent of change," Dodson Peterson said. "Auction of Washington Wines' willingness to support V&E's long-term vision is truly valued. It's exciting to bridge the advancements of our faculty's research, to student engagement, to the success of the global industry. For that, WSU V&E is thankful to everyone who supports Auction of Washington Wines."