October 11, 2016

Student using undergrad experience to increase community sustainability

Elinor Lake and her family have always been environmentally conscious. From ensuring their appliances were energy efficient to making the effort to turn off the lights every time they left the room, she and her family knew that even small actions could make an impact.

But when Lake started as a student at Washington State University Tri-Cities, pursuing undergraduate degrees in biology and humanities, she took her efforts to the next level, hoping to promote a culture of sustainability through campus initiatives and community projects.
Lake's efforts began shortly after she attended a luncheon with CH2M. The organization had provided Lake with funds for a research project through the WSU Tri-Cities Chancellor's Summer Scholars program where she studied professional women in academia and highlighted the traits, qualities and academic contributions that made them successful. Lake presented her research during a meeting with company executives and attended the luncheon thereafter.
"During the luncheon, I asked representatives from CH2M if their company recycled and I discovered they had an impressive sustainability program," Lake said. "All of their events are zero-waste. They made a corporate commitment to be as environmentally-friendly as they could."
Lake said she didn't think anything would come of that initial discussion, but CH2M communications specialist Lynn Tegeler and Director of Public Relations Dee Millikin contacted Ken Fincher, WSU Tri-Cities assistant vice chancellor of advancement and engagement, voicing they would support Lake's sustainability efforts in any way they could.
"Dr. Fincher came to me and that was right when I was getting involved with WSU Tri-Cities' environmental club," Lake said. "We now had the corporate support, in addition to the administrative support, which was when everything really started to come together."
Creating new opportunities
Backed by campus administration, community organizations and under the mentorship of Environmental Club advisor Gretchen Graber, Lake and her fellow environmental club members created a number of opportunities for the campus and regional community to get involved in sustainability efforts.
This past school year, the club organized two separate cleanup days at Bateman Island in Richland, Washington, in partnership with organizations such as the city of Richland, the Tapteal Greenway Association and several others. The two events attracted more than 120 volunteers who collected a combined 50 large bags of trash – half, of which was recycled.
"The Bateman Island events were actually far more successful than I had anticipated," Lake said. "It was inspiring and encouraging to see just how many people, both from WSU Tri-Cities and the general Tri-Cities community, were interested in cleaning up one of our local recreation areas."
The club also organized their first Earth Day celebration last school year where they welcomed panel members from all over the mid-Columbia region. The event featured food from Ethos Trattoria, which uses sustainable materials, and the club handed out promotional items that define what people can do in their own homes and in the community to reduce, reuse and recycle.
"It's a great way to publicize not only how people can start recycling more on campus, but also how they can take matters into their own home," she said.
Lake said Graber was instrumental in the club's success as she provided the knowledge, community connections and experience that served as a backbone to the group's efforts.
"Working with Gretchen Graber in the club over the past year and a half has undoubtedly been one of the greatest learning experiences of my time at WSU Tri-Cities," she said. "Gretchen contributed tremendous efforts toward the club and was invaluable with regard to my growth as a leader and as an aspiring change agent. She connected the club with key community partners. She deserves so much credit."
Partnering with campus community
Lake recently turned her attention toward working with the campus maintenance and facility teams to publicize recycling and other sustainable practices on campus, with the hope of adding to the positive momentum the university has taken within the last several years to reduce waste.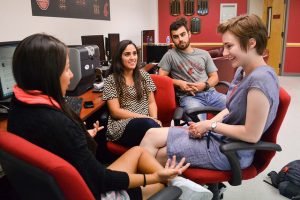 Carrie Ann Andersen, assistant director of campus facilities and operations, said she had her team make a conscious effort to reduce waste and improve upon the safety standards for cleaning materials on campus. Andersen said she and her team have added several recycling containers on campus, encouraged individuals to have their own paper recycling bins in their offices, as well as adding a few glass recycling containers on campus for the first time this year.
Anderson and her team also switched to environmentally-friendly cleaning products, which reduces the amount of contaminants that are released out into the environment.
"We have cut down the amount of waste and trash sent to the landfill by 50 percent in the last four years," she said. "We used to have trash pick up on Monday, Wednesday and Friday. Now, our trash pick up is on Monday and Friday."
Anderson said Lake has been a huge help in spreading word of their efforts and educating individuals on how they, too, can take sustainability into their own hands.
"With Elinor, her biggest help is that she is out there, she is talking to people, she is educating them," she said. "We're creating a culture of recycling and a culture of sustainability. It's not only helping the planet. It is good business. Everyone wins."