January 21, 2021

Jan. 26: Seminar to discuss segregation in region, provide glimpse into new book

By Maegan Murray, WSU Tri-Cities

RICHLAND, Wash. – Washington State University Tri-Cities will host a free seminar discussion on exclusion and segregation in the mid-Columbia region on Tuesday, Jan. 26, as part of the WSU Common Reading Program.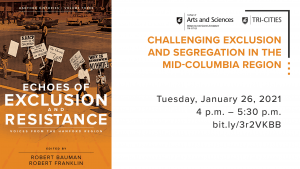 This event, which takes place from 4 p.m. – 5:30 p.m. online, coincides with the launch of the third book in the "Hanford Histories" series that documents historical accounts and realities of the Hanford Site and surrounding regional area.
Both the book and event parallel themes in this year's WSU Common Read book, "Born A Crime" by Trevor Noah, who lived in racially segregated areas in South Africa.
"As part of the Common Reading program, WSU freshman read an assigned book that introduces students to the value of research, power of ideas and interconnected ways in which disciplines across WSU approach similar issues," said Tracey Hanshew, WSU Tri-Cities history faculty and coordinator for the event. "Because these conditions and societal views mirror local mid-Columbia history, the seminar contributes to the student experience by highlighting the common community value of the Common Reading program."
As part of the event, WSU Tri-Cities history faculty Robert Bauman and Robert Franklin, as well as Laura Arata, history faculty at Oklahoma State University, will specifically discuss racial segregation and resistance to discrimination in the mid-Columbia region.
"Racial segregation and exclusion are realities that some may find hard to admit occurred even in our own Tri-Cities regional community," Bauman said. "The book provides a glimpse into some of those realities by exploring first-hand accounts from those who lived through them."
The new book, "Echoes of Exclusion and Resistance: Voices from the Hanford Region," draws reflections from a number of oral histories on the experiences of non-white groups in the Hanford region, such as Wanapum tribal members, Chinese immigrants, World War II Japanese incarcerated individuals and African American migrant workers from the South. The book was edited by Bauman and Franklin.
"While writing it, we had no idea how relevant conversations surrounding this book would be to today's political and sociological context," Franklin said. "These are true stories of individuals who provide a perspective of what it was like living and working in the Hanford area."
Following the seminar presentation, a question and answer session will follow.
For more information about "Echoes of Exclusion and Resistance" and to order the book, visit wsupress.wsu.edu/product/echoes-of-exclusion-and-resistance.
Media contacts:
Tracey Hanshew, WSU Tri-Cities scholarly assistant professor of history, 509-372-7390, tracey.hanshew@wsu.edu
Bob Bauman, WSU Tri-Cities professor of history, 509-372-7249, rbauman@wsu.edu
Robert Franklin, WSU Tri-Cities assistant director of Hanford History Project, 509-372-7678, robert.franklin@wsu.edu
Maegan Murray, WSU Tri-Cities director of marketing and communication, 619-403-3617 (cell), maegan_murray@wsu.edu