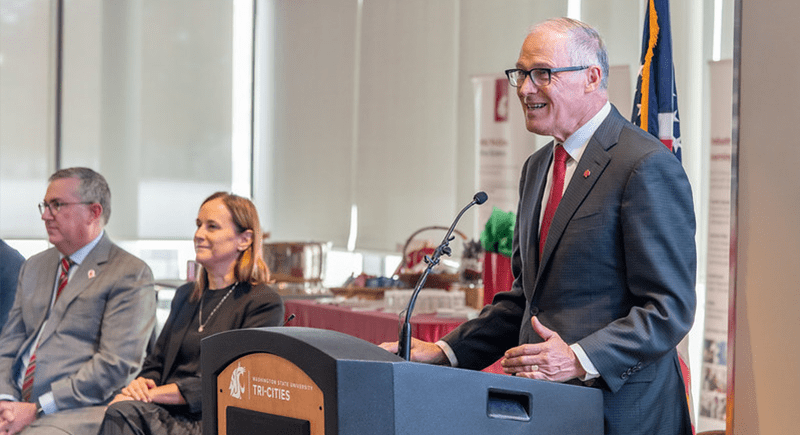 December 14, 2022

Gov. Jay Inslee seeks funding for the WSU Tri-Cities Institute for Northwest Energy Futures

By RJ Wolcott, WSU News & Media Relations, and Leslie Streeter, WSU Tri-Cities Marketing & Communications

RICHLAND, WASH – Governor Jay Inslee made a stop at Washington State University Tri-Cities Monday to highlight clean energy initiatives he wants to seek funding for in the upcoming state budget. One of the key initiatives is the WSU Tri-Cities Institute for Northwest Energy Futures (INEF).

The governor said he is proposing about $10 million that would allow for hiring eight scientists – five scientists, including the director, would be at WSU Tri-Cities, three would be in Pullman. Funds would also go toward leasing to own a building in north Richland over the next four years.

Located in the state's energy hub, WSU Tri-Cities is the perfect place to explore how to best capitalize on the energy ecosystem and connect energy researchers, policy makers, companies, and consumers. INEF will help address the increasing demands for resilient affordable and available low-carbon electricity and transportation fuels.

"The ultimate source of renewable energy is our capability to innovate," Inslee said, adding the institute and its partners will be driven to explore numerous paths to creating a more sustainable and environmentally just world.

Inslee was joined in his remarks by WSU President Kirk Schulz, WSU Tri-Cities Chancellor Sandra Haynes, Washington State Senator-elect Matt Boehnke, Karl Dye, president and CEO of the Tri-City Development Council, and Malin Young, associate laboratory director for earth and biological sciences at Pacific Northwest National Laboratories.

"We are honored and excited that Governor Inslee has included the Institute for Northwest Energy Futures in Washington state's clean energy initiative," Haynes said.  "This funding would allow INEF to support the Tri-Cities, our region, state, and nation as a leader in transforming energy systems and solving climate issues by bridging science and policy.  Our ideal geographic location, WSU's existing scientific partnerships, and access to a ready workforce complements INEF's systems approach to researching and analyzing clean energy transition plans."

WSU Tri-Cities launched the Institute for Northwest Energy Futures last spring with a $500,000 gift from Bob Ferguson, who served as the first deputy assistant secretary of nuclear programs for the U.S. Department of Energy. The gift kicked off a $2 million fundraising campaign for WSU Tri-Cities to hire its first endowed faculty chair in energy and the environment, who will also serve as the center's leader.

WSU Tri-Cities is looking forward to seeing the center evolve through work with existing partners like PNNL as well as new collaborations that are sure to come as researchers pursue the next generation of clean energy advances. The campus will also continue to educate the future workforce that will be critical to turning research findings into realities that benefit Washington residents and those beyond, Haynes said.

Inslee's full budget proposal, including specific allocation requests, is expected to come out soon, with members of the Washington House and Senate convening in January to begin writing their budget proposals.