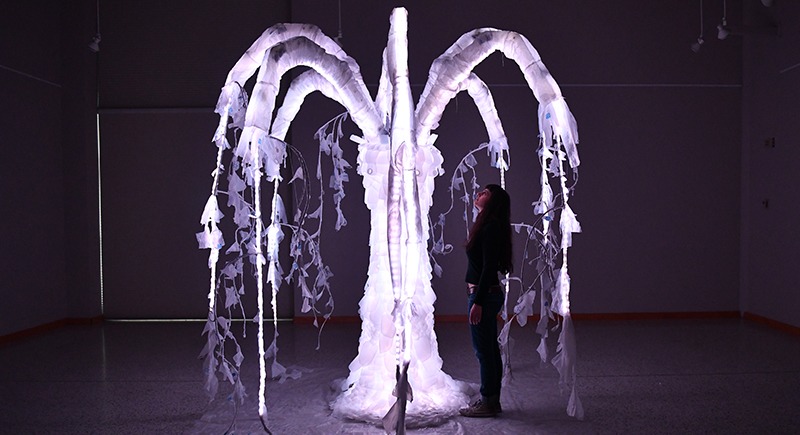 January 23, 2020

Exhibition to showcase professional art from WSU faculty across the state

By Maegan Murray, WSU Tri-Cities

RICHLAND, Wash. – An exhibition at Washington State University Tri-Cities will showcase art professionally created by WSU faculty and staff from across the state now through Feb. 28 at the WSU Tri-Cities Art Center.

A grand opening for the exhibition is scheduled for 5 p.m. – 7 p.m. on Jan. 31 in the WSU Tri-Cities Art Center. The event is free and open to the public.

The exhibition will feature a range of styles of art, including interactive and electronic sculptures, ceramics, photography, painting, drawing and more. It will specifically feature works from 16 faculty and staff from the WSU Tri-Cities, WSU Vancouver and WSU Pullman campuses.

At the grand opening on Jan. 31, attendees will have the opportunity to meet many of the artists featured, enjoy wine and light refreshments, as well as get an up-close look at the works of art.

Remarks begin at 5:30 p.m. and will feature:
Sena Clara Creston, WSU Tri-Cities clinical assistant professor of fine arts and digital technology and culture
Squeak Meisel, WSU chair and associate professor and sculpture coordinator of fine arts
Kathleen McAteer, WSU Tri-Cities vice chancellor for academic affairs and clinical associate professor of biology
Matthew Jockers, dean of the WSU College of Arts and Sciences
Reza Safavi, WSU associate professor, graduate coordinator and digital media coordinator of fine arts
The grand opening reception is free and open to the public. For a complete list of artists and their works featured, visit tricities.wsu.edu/art-center.
"We have a variety of highly-skilled and wildly talented faculty and staff members whose work will be featured and prominently displayed for this WSU exhibition," Creston said. "We invite our community members to come out and witness the excellent artwork of our accomplished faculty and staff."
The WSU Tri-Cities Art Center is open from 8 a.m. – 6 p.m. Monday – Friday.
For more information about the exhibition, visit tricities.wsu.edu/art-center/.