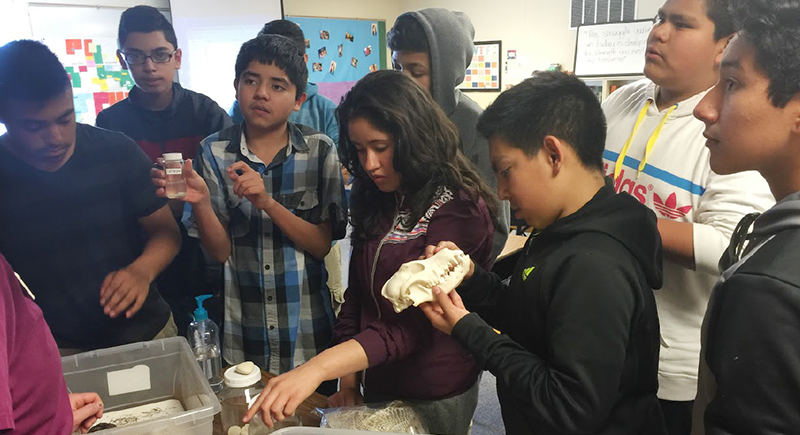 September 6, 2018

$2.5 million grant supports extracurricular learning at Pasco elementary schools

By Maegan Murray, WSU Tri-Cities

RICHLAND, Wash. – Students and families at four elementary schools in Pasco will benefit from after-school programming and extracurricular learning experiences thanks to $2.5 million 21st Century Community Learning Center grant to Washington State University Tri-Cities.

The school program, supported by the five-year grant, provides students with homework help and access to programs including LEGO Robotics, drama, chess, archery, Minecraft, field trips, fire safety, rocketry and English language learning. Schools also provide a four-week summer program focusing on the science, technology, engineering and mathematics (STEM) fields.

This is WSU Tri-Cities' third time receiving a 21st Century Community Learning Center grant from the Washington Office of Superintendent of Public Instruction. Each grant received by WSU Tri-Cities has served a different cohort of students.

The four Pasco schools to benefit from the new grant include Mark Twain Elementary School, Marie Curie Elementary School, Captain Grey Elementary School and Robert Frost Elementary School. The other grants awarded to WSU Tri-Cities through the program also served Pasco schools.

The program aims to achieve four goals:
Increase academic achievement among target students in reading and math.
Provide high-quality learning opportunities that lead to increased positive student behavior among target students.
Increase parent literacy levels and opportunities for educational development.
Increase the number of community partners who collaborate with the program.
"WSU Tri-Cities can provide services to students in the community beginning at third-grade, and continue to engage students through their sixth-grade year," said Jay Scott, director of the 21stCentury Community Learning Centers program. "If the university continues to receive grants in the future, we can put new grants in place in the high schools and re-enter the middle schools, allowing WSU Tri-Cities to potentially create a pipeline of STEM-ready students."
In addition to supporting students at the elementary schools, the program also stands to benefit preservice teachers in the education program at WSU Tri-Cities.
"Students wishing to pursue the elementary education degree at WSU Tri-Cities can use the experience to gain exposure to classroom life and to work with students in the after school program," Scott said.
Scott said he plans to work with the grant's principal investigator, Kate McAteer, assistant vice chancellor of academic affairs, to develop a partnership with WSU Tri-Cities students so that they can work in the 21st Century Community Learning Center programs to gain real-world experience in the classroom.
WSU Tri-Cities was one of 10 proposals accepted for the grant program and received the highest funding award allotment allowed by the Office of Superintendent of Public Instruction.
"I am confident we are changing students' lives for the better in the schools where we serve," Scott said. "I am proud of all of the accomplishments my staff have achieved thus far. We want to achieve more during the 2018-19 school year. We know that if we are successful, then the students and the families we serve will be successful."
Contacts: