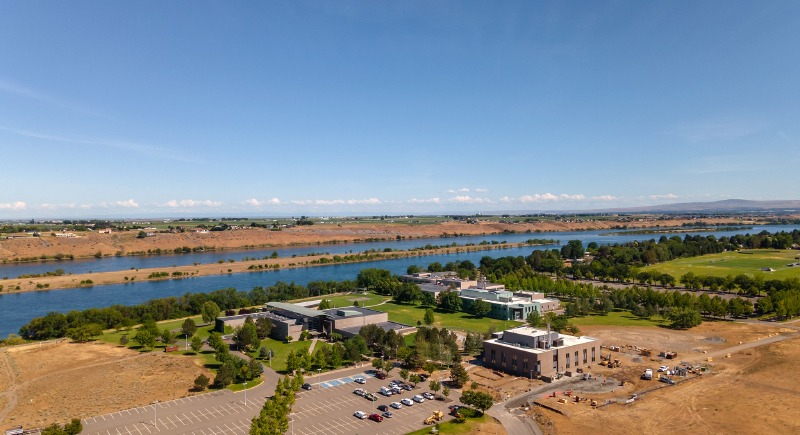 July 1, 2021

Full in-person learning planned for fall, updated guidance

In line with updated state guidance, the WSU system has announced the implementation of relaxed protocols for accessing and returning to campus.

Face-to-face interaction with our students and each other is the foundation of our effectiveness as an educational institution. Working in community on the WSU Tri-Cities campus provides the best means of supporting our students and each other in the important work we do.

We are, thus, very excited about what this new guidance means for our campus and we look forward to seeing many of you in-person very soon! It's been a long-time coming, but we are starting to see light at the end of the tunnel, as evidenced by the new guidelines, below.

Fully in-person classes planned for fall
WSU Tri-Cities will offer fully in-person learning this fall. Scheduling will be adjusted for regular classroom capacities and laboratories will move back to their normal capacities.

Admissions applications accepted through summer months
WSU Tri-Cities will accept applications for admission for fall 2021 through the summer. Classes begin on Aug. 23. To apply to attend WSU Tri-Cities, visit tricities.wsu.edu/apply.

Vaccine requirements
All WSU locations require that individuals receive the COVID-19 vaccine to access a university location, however, exemptions will be granted for medical and non-medical reasons. More information will be shared on the exemption process for all employees and for non-WSU Pullman students prior to the start of the fall semester.

Mask requirements
WSU employees who declare themselves fully vaccinated via Workday are not required to wear masks and socially-distance at WSU locations. Those who are not fully vaccinated must continue to wear masks and socially-distance while on a campus or worksite. Providing falsified information regarding vaccination status is grounds for disciplinary action, up to and including termination from employment.

Students, contractors, vendors and visitors must be prepared to show proof of vaccination to a relevant unit or department lead when entering a WSU building. Employees who are not unit or department leads should let the unit or department lead know of their concern about someone's vaccination status, rather than approaching the individual, themselves. Those unable or unwilling to provide proof of vaccination to the unit or department lead are required to wear a mask and socially-distance or leave university property.

Campus tours resume
The WSU Tri-Cities Office of Admission is now scheduling on-campus tours for prospective students and their families. The tours will initially be held mostly outside before slowly transitioning to building interiors as campus facilities are prepared. To schedule a campus tour, visit tricities.wsu.edu/visit.

SOAR (Student Orientation, Advising and Registration) to offer in-person experiences
WSU Tri-Cities is planning for in-person experiences as part of SOAR that will take place in July. For more information, contact Ian Jamieson at ian.jamieson@wsu.edu.

Attestation no longer required
Students, employees and visitors who access a WSU location no longer have to attest to their current health status via the official WSU attestation process.

Campus check-in to be used for contact tracing
While attestation is no longer required, WSU Tri-Cities will continue to utilize a campus check-in process for all employees and visitors at the Floyd and CIC entrance kiosks. However, this process will be moving to an online check-in process that departments and individuals can use when visitors come to campus. To meet the state requirements for contact tracing come fall, faculty will be asked and expected to take attendance in their classes. More details will be shared as they are finalized.

Return to in-person work dates
WSU Tri-Cities director-level supervisors and above are expected to start working from campus or their respective WSU location no later than July 12.

All other WSU Tri-Cities employees (except faculty) are expected to work from campus or their respective WSU location no later than Aug. 2.

WSU Tri-Cities faculty should plan to start working from campus or their respective WSU location beginning on their contracted start date for fall.

Those who have a medical condition impacting their ability to report to in-person work should contact their supervisor and HRS Disability Services at HRS.disabilityservices@wsu.edu or 509-335-4521.

Employees should provide notice when planning to return to help alleviate stress on facilities and IT staff
Those who have not yet returned to work on campus should provide advanced notice to facilities and/or IT if they require help in setting up equipment in their work area. Those who are able to move their items back to their office, themselves, are encouraged to do so. This will help reduce demands on the facilities and IT teams as they try to manage the return to campus needs for all campus members as we get closer to fall.

Return to work plans for units/departments no longer required to be submitted
WSU units and departments are no longer required to submit official return to work plans to WSU Tri-Cities Environmental Health and Safety. A WSU Tri-Cities campus-wide return to campus plan will remain in effect. It is currently being updated by Scott Tomren with latest guidance and will be posted to the WSU Tri-Cities COVID-19 website upon completion: tricities.wsu.edu/covid-19.

Return to work training no longer required
Employees are no longer required to complete the HRS return to workplace training. Rather, they can visit the Environmental Health and Safety website for a complete account of current guidance.

Events
All on-campus events should be entered into 25Live for scheduling resources.

Where to find latest up-to-date information
WSU Tri-Cities will continue to maintain its COVID-19 web page at tricities.wsu.edu/covid-19. WSU individuals can also access updated information on the WSU system COVID-19 website at wsu.edu/covid-19.