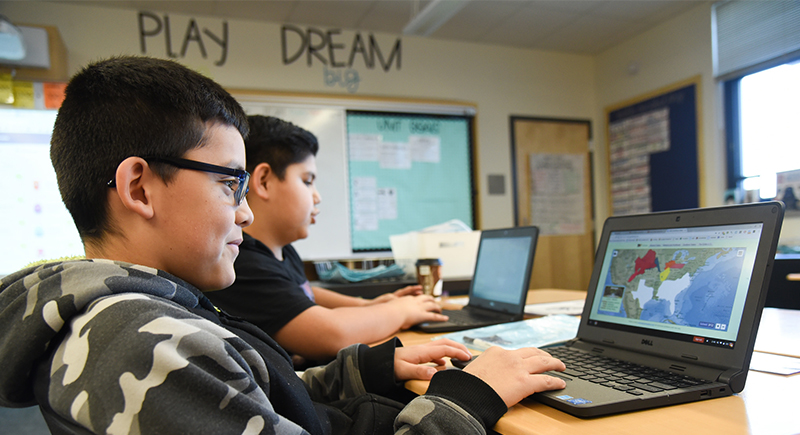 February 19, 2018

WSU Tri-Cities professor partners with father to develop geography classroom technology

By Maegan Murray

RICHLAND, Wash. –  A Washington State University Tri-Cities education professor has partnered with her father, a software engineer, to develop a fun and hands-on educational tool that will allow students to virtually explore geographic areas, expand their spatial awareness skills and improve overall geoliteracy.

National Geographic defines geoliteracy as "the ability to use geographic understanding and geographic reasoning to make far-reaching decisions." Sarah Newcomer, assistant professor of literacy education at WSU Tri-Cities, said students use the skill in a range of academic fields, in addition to everyday life.

That is why she and her father, Fred Newcomer, created the program, PuzzleMap, which features moveable map elements with interactive clues and images to expand the user's knowledge of any geographic area.

"With this project, we're really looking at how this tool supports kids in developing their geographic literacy and spatial reasoning, as there are many kids who prefer to learn that way," Sarah Newcomer said. "Not all kids may be successful with pencils and paper. It's a different way of learning and approaching the material, as well as a different modality that they can learn through."

From GIS to integrated classroom technology

Fred Newcomer spent a year developing the platform. He said he wanted to use his years of experience with geographic information systems in the public safety sector to help address global environmental concerns. The project quickly showed its value for elementary students, thanks to the advisement of his daughter.

"My initial intent was to simply make something that other people might find interesting and enjoy doing," he said. "Games like Tetris, Candy Crush and Pokemon Go have attracted many juvenile and adult players, but they don't really offer any secondary benefit … When Sarah first saw PuzzleMap, she immediately suggested that it could be a valuable classroom tool."

Sarah Newcomer worked with her father to create a PuzzleMap of the United States specifically for use at the elementary school level. Students use the program to complete a puzzle by placing a state in its correct spot on a blank map. The individual pieces also feature useful facts ranging from population, to climate, to key industries in each region, which the students can use as clues.

Success in the classroom

This year, Sarah Newcomer and Jonah Firestone, assistant professor of science education and assessment, partnered with two fifth-grade classes at Marcus Whitman Elementary School in Richland and a fifth-grade class at Barbara McClintock STEM Elementary School in Pasco to assess PuzzleMap's effectiveness in the classroom.

Although data analysis is in the preliminary stages, Newcomer said an initial review of the results indicate that the program helped students retain information at a greater rate than if they hadn't used the program – and typically by a wide margin.

"We hypothesized that the group that supplemented their regular curriculum with Puzzle map would do better, but we didn't plan for just how well they would do," she said. "It just goes to show that adding supplemental resources with the regular curriculum can provide a huge benefit to students."

Excitement for learning

Most of the students participating in the study said they loved using the program. Students enjoyed exploring both states that were unfamiliar, as well as their favorite states. Other students said they enjoyed competing with themselves to improve their proficiency score.

"I can place all of the states on the map in 1 minute and 40 seconds," said Divine Salazar, a fifth-grade student at Marcus Whitman. "I even got an app on my phone to study it at home, too."

McKenzie Munn, a fifth-grade teacher at Marcus Whitman Elementary, said students were more engaged with their geographic curriculum when they completed PuzzleMap in conjunction with their given material.

"This resource is a tool that we can use to supplement everything we were already planning on teaching," she said. "It is not a replacement and not going to change the way we do social studies, but it is just going to make it better."

Trevor Dunstan, a technology specialist at McClintock agreed, noting the program "would be an excellent resource for working hands-on with different content areas."

Future of PuzzleMap

Fred Newcomer said he plans to continue working with his daughter to develop more PuzzleMap content for elementary students and on adding features that will facilitate classroom use. He is currently developing a variety of PuzzleMap ideas to raise environmental awareness, promote public spaces and market regional products. The platform is also being used to highlight the complexities of legislative districting.

The program is available now for schools and other organizations to use. For more information on PuzzleMap and related technology resources, visit https://www.spheraware.com/.