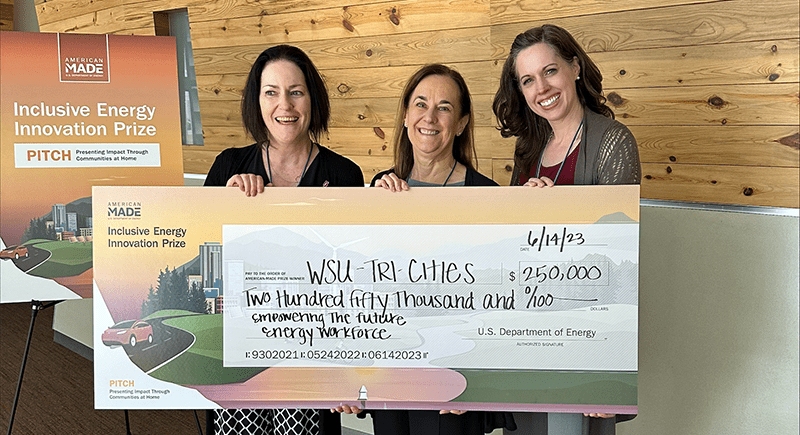 June 29, 2023

WSU Tri-Cities named winner of Inclusive Energy Innovation Prize

The United States Department of Energy (DOE) named Washington State University Tri-Cities a grand-prize winner in the final phase of the Inclusive Energy Innovation Prize. As one of six winners, WSU Tri-Cities was awarded $250,000 to continue its Empowering the Future Energy Workforce plan, which includes developing an energy and environment certificate that will prepare students to join the next generation of clean energy leaders and thinkers.  

This first-of-its-kind competition aims to further climate and environmental justice during the transition to a net-zero-carbon economy by directly funding disadvantaged communities. By investing in ground-up approaches toward a more equitable clean energy future, the prize seeks to assist chronically underserved communities. This prize is the first of the American Made challenges in response to the White House's Justice40 initiative.  

WSU Tri-Cities' prize-winning plan incorporates student involvement through the development of the Clean Energy Ambassadors Network. The program seeks to increase retention and empowerment for Latine students pursuing careers in energy through the creation of an energy and environment certificate. After submitting a winning impact plan in phase one last year, the WSU Tri-Cities team presented their progress and future plans to a panel of expert reviewers during a two-day event, Presenting Impact Through Communities at Home (PITCH), held at the U.S. Department of Energy's National Renewable Energy Laboratory in Golden, Colorado. The competition was fierce, with teams consisting of non-profit organizations, higher education institutions, and startups. 

Jillian Cadwell, research associate in the School of Engineering and Applied Sciences and co-lead of the program was thrilled to receive the final prize, which will allow for future growth of the program. "Our goal for this program is for these future professionals to contribute their expertise, cultural wealth and leadership to the research, inquiry and development around clean energy and climate innovation solutions," she said. "This prize money will help us do just that." 

A portion of the prize money will continue to help establish the Institute for Northwest Energy Futures in developing industry partnerships for energy systems research and fostering community discussions for policy development.  

"The Inclusive Energy Innovation Prize is central to the campus strategy of serving our students, half of whom are students of color and first generation, by preparing them for jobs in a clean energy economy and addressing environmental justice issues in disadvantaged communities," said Sandra Haynes, chancellor of WSU Tri-Cities. "This strategy is rooted in the campus and region's vision for leadership in a decarbonized future and is a key part of the new Institute for Northwest Energy Futures which is focused on a systems integration view of clean energy.  The prize will enable this work to be fully integrated into our curriculum serving students and their communities well into the future." 

Kate McAteer, vice chancellor of academic and student affairs and a co-lead of the program said, "This prize will position WSU Tri-Cities as a leader in the educational space for climate justice and helps empower underserved students." 

In addition to Cadwell, McAteer and Haynes, the grant team consisted of Paul Carlisle, adjunct professor entrepreneur in residence; and Raul Contreras and Martin Valdez Torres from the Tri-Cities Hispanic Chamber of Commerce.  

The WSU/Pacific Northwest National Laboratory's Advanced Grid Institute and Energy Northwest collaborated with the team during the process to represent the university's local industry partnerships.  

Learn more about the WSU Tri-Cities' Inclusive Energy Innovation Prize.