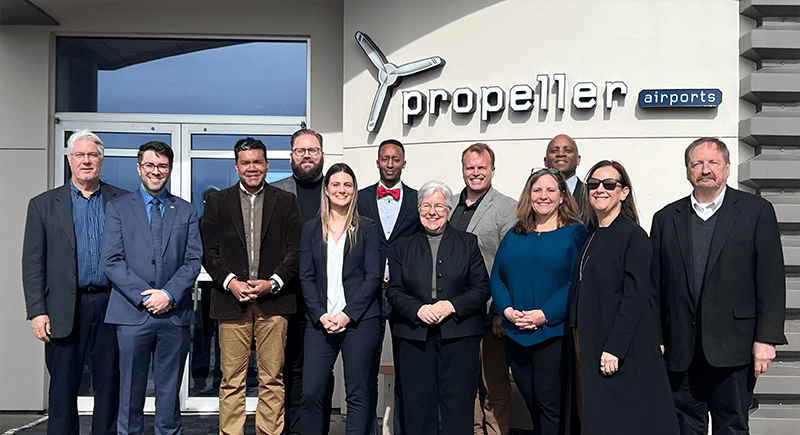 April 3, 2023

WSU Tri-Cities' BSEL, Heyne, tapped to guide development of Snohomish County sustainable aviation fuel R&D center

Washington State University Tri-Cities and Snohomish County will partner to bring a proposed research and development center for sustainable aviation fuels to life. Snohomish County officials announced Tuesday plans for a $6.5 million Sustainable Aviation Fuel (SAF) Applied Research and Development Center located at Paine Field in Snohomish County. The first-of-its-kind center will offer fuel testing, fuel finishing and the world's first fuel repository.

Dr. Joshua Heyne, a leading expert in sustainable aviation fuels and director of the Bioproducts Science and Engineering Laboratory (BSEL) at WSU Tri-Cities is set to lead the SAF center at Paine Field.

"Washington state's leadership in aviation and the environment was one of the reasons I moved across the country to join WSU. Here, the state is supporting efforts to meet global challenges while complementing existing strengths," Heyne said. "WSU research has enabled the inception of global policies and new technologies to benefit state agricultural and industrial activities from Pullman to Everett. We are proud to partner with Snohomish County, our state Legislature, and industry partners to once again meet a global need with local interests."

Sandra Haynes, chancellor at WSU Tri-Cities attended the press announcement at the Snohomish County airfield. "This is such a wonderful opportunity for Snohomish County and WSU Tri-Cities. With their expertise in aviation and the environment and our extensive SAF research, it's a perfect partnership," she said. "We are very proud of the research being conducted on our campus at BSEL and even more proud that Dr. Heyne and others will be helping to guide the development of this truly unique and impressive endeavor that stands to advance SAF around the globe."

Currently, BSEL is a leader in developing the next generation of SAF with research, partnerships, and as the official FAA SAF prescreening lab. Development of SAF is an important step toward addressing global climate change and for the continued success of commercial aviation. Hundreds of samples from North America and Europe have been tested and its researchers have developed novel experimental and computational tools to evaluate SAF candidates at very low volumes. BSEL will continue to develop additional low-volume (< 20 gallons) tests at WSU Tri-Cities. In addition, the lab has worked with more than three dozen institutions from across academia, national labs, and industry to align their technologies for commercialization.

According to a press release posted on the Snohomish County website, the Center at Paine Field will support the following SAF components:
Repository: SAF samples will be received, tested at small scales, indexed, distributed around the U.S. and world. This meets an immediate community need as a repository of this type does not currently exist.

Finishing: SAF samples and production methods could be investigated to reduce costs and the impact on human health and the environment.

Large-Scale Testing: SAF samples could be tested at large scales (by the thousands of gallons) needed to ensure safety and bring new fuels and products to market.
The center would allow for sustainable fuel samples to be more thoroughly tested by researchers and give them opportunities to find more efficient production methods that are less impactful on human health and the environment.
Project leaders are seeking additional state funding to make the center a reality. Washington State Senator Marko Liias has proposed $6.5 million in start-up funding for the project in the proposed Senate Transportation Budget, with State Rep. Brandy Donaghy taking up the effort in the State House of Representatives.
According to the Snohomish County website, the Legislature is expected to vote on a compromise transportation budget in the coming weeks. Concurrently, the County, WSU, and the AFA are releasing a Request for Qualifications to identify a contractor to develop a business plan for the Center. The plan should be complete in September 2023.