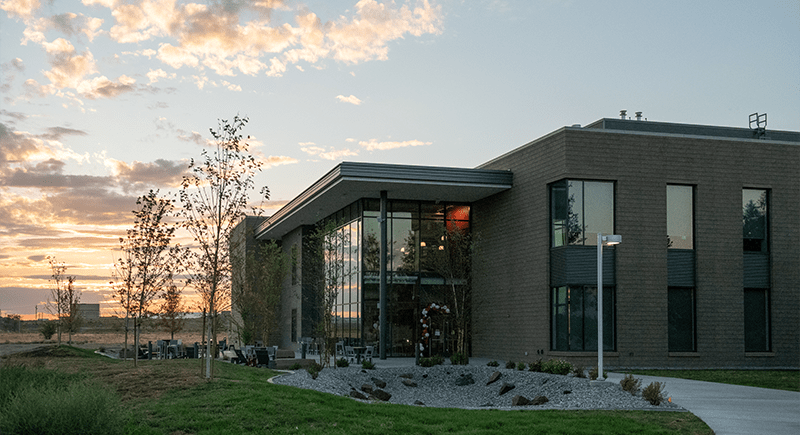 August 18, 2022

Washington State University Tri-Cities' Collaboration Hall wins national award of merit from the Design-Build Institute of America

Richland, Wash – The Design-Build Institute of America has named Washington State University Tri-Cities' Collaboration Hall as one of 30 winners in the 2022 National Design-Build Project/Team Awards. DBIA's distinguished panel of industry experts selected the top 30 projects across 10 categories to represent the best-of-the-best in design-build.

As a Merit Award winner in the Educational Facilities category, the newest building on the WSU Tri-Cities campus will go on to compete for a National Award of Excellence and Project of the Year to be announced at DBIA's Design-Build Conference and Expo Awards Ceremony in November in Las Vegas, NV. Hoffman Construction nominated WSU Tri-Cities' newest building for the award.

WSU Tri-Cities Chancellor Sandra Haynes said, "This is a tremendous recognition for our collaboratively created Collaboration Hall."

The construction of Collaboration Hall was made possible by $3 million in design funding and $27 million in construction funding from the Washington state Legislature.

In addition to state allocations, financial contributions were made by university leadership, and private and organizational community support.

The building, which officially opened on the first day of fall classes last year, features a range of state-of-the-art science teaching laboratories, three large interactive classrooms, study and collaborative areas, an open atrium ideal for presentations and events, as well as an outdoor amphitheater that seats 100.

Visit DBIA's Project/Team Awards page for a full list of project winners, including photos and descriptions of each project.

About WSU Tri-Cities

WSU Tri-Cities is located on shared traditional homelands of the Confederated Tribes of the Umatilla Indian Reservation and the Confederated Tribes and Bands of the Yakama Nation. As a leading public research university with a focus on energy, environment and agriculture, WSU Tri-Cities delivers career-connected learning and innovative research that addresses economic and social challenges.