Improper disposal of chemical wastes, such as by evaporation, placing them in the trash, or dumping them down the drain, is a serious violation of local, state, and federal law, punishable by fines and imprisonment.
Disposing of wastes improperly, in addition to creating legal liabilities, may create additional waste by contaminating other materials, leading to increased disposal costs. Generators who create these problems will be required to pay for these disposal costs.
Similarly, hazardous chemicals cannot be made non-hazardous by dilution with water or other materials.  Attempting to dilute wastes simply creates a larger volume of waste, and increases disposal costs.
NEVER DISPOSE OF CHEMICALS IN DRAINS, TRASH, BY EVAPORATION OR DILUTION
---
When chemical wastes are ready for disposal, report them to EHS by completing the online Chemical Collection Request (CCR) form.  Complete all of the required information, and upon submittal, the form will notify EHS that your waste is ready for collection.  An image of the form, with instructions, can be viewed here.
If you have multiple identical containers of the same waste, they can be submitted on a single form. However, each distinct waste stream must be submitted separately.  If you have a large number of wastes to dispose of, such as during a laboratory cleanout, contact EHS for alternative reporting options.
After submitting the online CCR, you will be forwarded to a confirmation page that appears like this: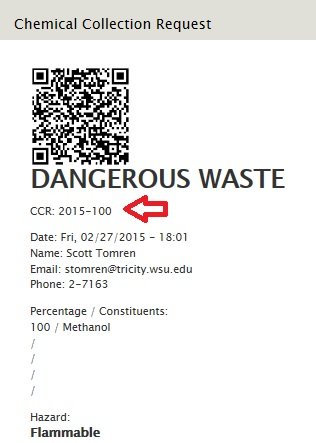 This confirmation page contains all of the information required for your container label, so it can be printed and attached to the container.  The CCR number (designated above by the red arrow) is the unique ID number assigned to the container once it is reported as waste.
REMEMBER: Containers in which waste is accumulated must be labeled upon the first addition of waste.  However, you will not receive a CCR number until you report the waste ready for collection.  You may either use the label generated by the CCR page and replace the existing label, or simply copy the CCR number to the existing label. Either option is acceptable, but the CCR number must appear on the label or the waste cannot be collected.
After receiving your CCR submittal, EHS will collect your waste within 3 days and transport it to the campus' central storage area for disposal.