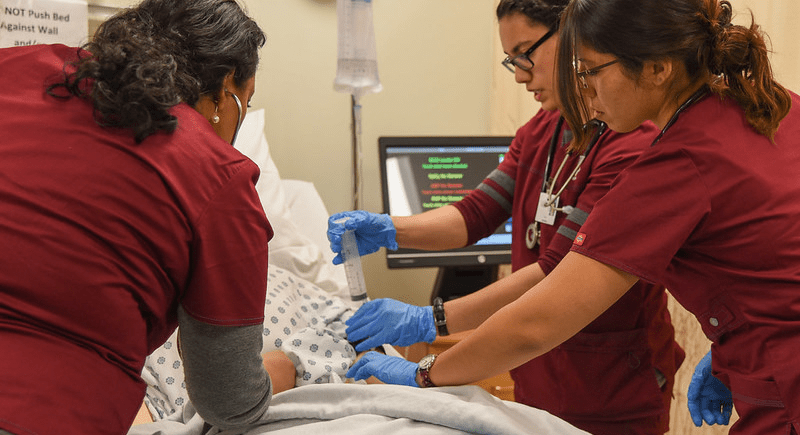 November 4, 2022

WSU Tri-Cities College of Nursing upgrades simulation lab thanks to special state funding

Richland, WA – Simulation labs are an integral component of a nursing student's education. As technology has advanced simulation labs have become more life-like and more expensive to maintain. WSU Tri-Cities was recently awarded $285,000 from legislative appropriated funds to upgrade existing simulation programs and purchase new supplies and mannequins.

Bevan Briggs, academic director and clinical assistant professor for the WSU Tri-Cities College of Nursing, was very excited when he learned that Tri-Cities was one of the funding recipients. "We are very excited about this opportunity. It will basically allow us to double our simulation capacity.  Nurses are in such short supply that everything we can do to support nursing education will have a huge impact later on."

He and his team have already compiled a shopping list that includes additional simulation mannequins – including a baby – new beds, upgrades to the sim technology, new arms for practicing intravenous injections and new skin types that simulate different ages and ethnicities. They are also planning to purchase new camera equipment that will allow their simulation lab to connect with other labs across the system.

The WSU Tri-Cities College of Nursing offers two undergraduate degrees – BSN, RN – BSN, and several graduate level degrees including a DNP Family Nurse Practitioner, Psychiatric Mental health Nurse Practitioner and a Population Health Nurse. The pre-licensure BSN program accepts 54 students each year and the DNP programs have steadily increased enrollment over the past 3 years.

Click here for more information about the WSU Tri-Cities College of Nursing.