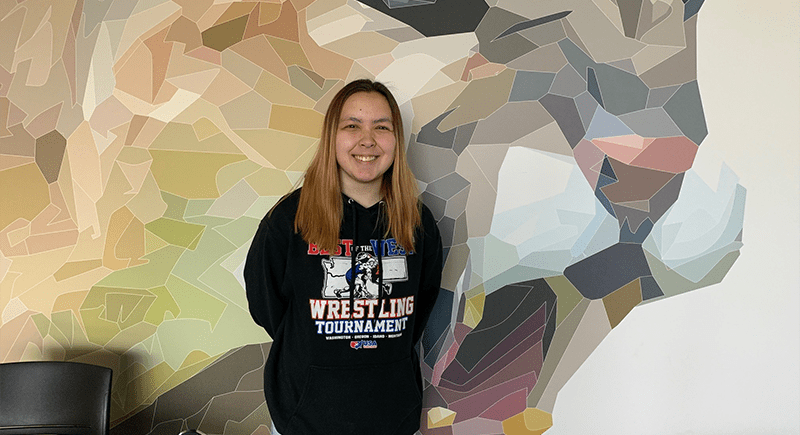 May 18, 2023

Mechanical engineering student lands internship with NASA

This summer, first-year mechanical engineering student Sara Christensen will have an out-of-this-world internship experience. She was selected to be an intern at NASA in southern California.

Christensen learned of the internship opportunities from her uncle who works for NASA at Edwards Airforce Base. She was surprised by the large number of internship opportunities available and applied for four different positions. She was selected for two. One involved working on Magnetic Two-Body Separation System Development for drones and the other involved working on a Fiber Optic Sensing System (FOSS). After interviewing and learning more about each one, Christensen chose the FOSS internship.

Christensen said, "Even though it has more to do with electrical engineering, I took the FOSS internship because I think it will expand my engineering experience and help me decide which path I want to take."

Christensen explained that FOSS is a man-made nervous system for any given object it gets attached to. It uses infrared lights positioned along a framework to detect heat build-up or strain on the object.

According to a NASA Fact Sheet about FOSS, FOSS uses up to a 40-foot, hair-like optical fiber that provides up to 2,000 data points. The system processes information every quarter inch along the fiber at rates up to 100 times per second, representing a sizable improvement compared to previous implementations of the technology. High-speed monitoring and sensing technology is enabled with efficient algorithms for use in determining strain, shape deformation, temperature, liquid level and operational loads – in real time. It has the potential to solve a number of technical challenges not only for NASA but also for industries as diverse as medical, power, beverage and automotive.

The paid internship lasts 10 weeks starting in June and ending in August. "I'm fortunate that I have family in the area so I will be able to stay with them," Christensen said. "The most challenging part for me will be leaving my family here in the Tri-Cities while I'm gone."

Christensen is most excited about the opportunity to work in the field of electrical engineering, to experience it and learn what she likes and doesn't like. "Maybe," she said, "it will direct my education pathway in a different direction."

Her advice to other students about getting an internship with NASA is to just apply.  "Even though NASA sounds intimidating, the internship wasn't really that hard to get, you just need to apply," she said.  "You don't have to be a major genius; you just have to be able to make it work." Interns are responsible for finding and paying for their own housing and transportation.

Christensen is a graduate of Kamiakin high school and knew after her older brother graduated from WSU Pullman, she wanted to follow in his footsteps. She chose WSU Tri-Cities because of the small campus, relaxed atmosphere and to save money.

"WSU Tri-Cities is a great fit for me because smaller classes mean I can get help when I need it and professors are more available and provide quick responses," she said.