Washington State University Tri-Cities in partnership with the U.S. Department of Energy (DOE) is pleased to announce the second lecture in the series on the Hanford Area's Current and Future Mission: "Tank Waste 101".
Dr. Sahid Smith of the Office of River Protection will deliver a lecture focusing on radioactive tank waste and the Tank Farms at the Hanford Area, which have become the Area's greatest challenge.
The lecture takes place Thursday April 27, 3 – 4 p.m. on the WSU Tri-Cities campus in the East Building Auditorium, room 266. Students, faculty and the community are welcome for the presentation.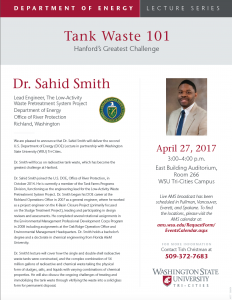 156050_department_of_energy_lecture_series_flyer_p4[1]